Membership
FFEDA Membership - Join Today
As dramatic changes reshape the fire equipment industry, it is critical that owners join together to uphold the dignity, honor and efficiency of the fire equipment profession. The Florida Fire Equipment Dealers Association continues to work to promote the needs and interests of Florida's fire equipment dealers.
FFEDA works diligently to
Secure the adoption of uniform standards and ordinances governing the fire equipment industry,
Recommend trade policies and practices that will help stabilize the industry and protect the public interest,
Build good will between distributors, dealers, manufacturers and state and national regulators,
Gather information pertinent to the fire equipment industry and make it available to members.
FFEDA encourages all Florida fire equipment dealers as well as manufacturers of fire equipment to join us. Our fiscal year runs from May 1st through April 30th. We have two membership types: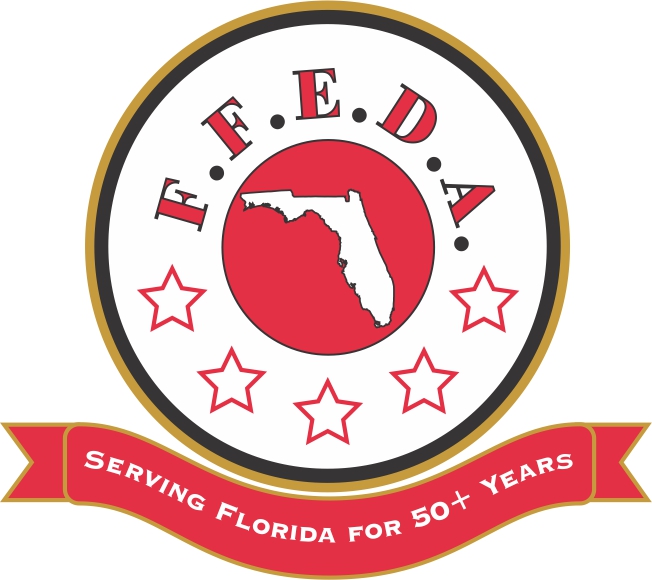 Regular Members - for fire equipment dealers. The company is the member with all employees of that company qualifying for member rates for FFEDA events and products.
Associate Members - for supplier companies and manufacturers. The company is the member with all employees of that company qualifying for member rates for FFEDA events and products.
Membership dues for both Regular Members and Associate Members are $350 for 12 months of membership. New members are also charged a one-time $50 application fee. Download a FFEDA Membership Application by clicking here: FFEDA Membership Application.

As a member of FFEDA, you will enjoy numerous member benefits including:
Continuing Education Seminars featuring quality education at affordable prices. FFEDA offers over 24 hours of state-approved CEUs each year at locations around the State.
FFEDA Human Resource Hotline where a human resource professional will answer your questions about employment issues such as compensation, wages and hours, hiring, dismissal, personnel policy and others. This service is offered FREE-OF-CHARGE to members!
Fire Line Quarterly Newsletter that includes all the latest news affecting the fire equipment industry!
FFEDA Annual Conference and Trade Show featuring one of the largest fire equipment trade shows in the Southeast! Members enjoy reduced registration fees.
Representation with the State Fire Marshal's Office, the Florida Legislature and many other regulatory agencies that affect the fire equipment industry.
HAZMAT Emergency Response Service at very reduced rates to help members comply with DOT and OSHA laws and rules.
Updates to Members on important notices, rule and law changes and other issues that might affect the fire equipment industry.
Plus much much more. FFEDA is constantly researching and adding new member benefits to assist our members in their professional lives.
To succeed in today's fire equipment industry, busy companies need to maximize time for themselves and their employees. FFEDA has put together the Technician Subscription program to provide news and information to all employees within the fire equipment community at a minimal cost. By signing up your employees for FFEDA Technician Subscriptions, you will be providing them with the tools to help keep them educated on what is going on within the fire equipment industry. As new laws and rules take effect, FFEDA will be publishing the most up-to-date information for our members and subscribers.
Subscription Benefits: Your company will benefit by ensuring full communication of the most up-to-date fire equipment industry news throughout your company in addition to:
Free subscription to Fire Line newsletter (published quarterly)
Instant notification and communication of important fire equipment related news through email and fax.
Participation in one of the largest fire equipment associations in the United States.
Annual Subscription Fees:
1 employee = $20.00 per person
2-5 employees = $18.00 per person
6 and more employees = $15.00 per person
Sign up your employees today for FFEDA Technician Subscriptions Technician Subscription Application
Don't miss out on these very important member benefits. Join FFEDA today and become a part of one of the largest fire safety associations in the United States!